Informative images, not exact representation of product.
PUCK CP9
• Measures: 1140x1140x156mm
•Weight: 25 Kg. approx..
• Dynamic load: 2000 Kg.
• Static load: 4000Kg.
•Tickets : 4 tickets.
Palet muy resistente.
It is standardized in dimensions and resistance.
Bottom boards are chamfered for easy handling.
Pallet recommended for internal use and storage of goods in shelves.
Especially used in the chemical sector.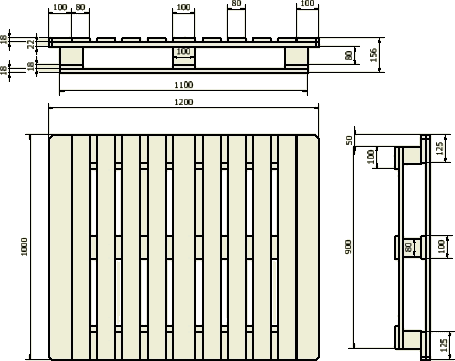 The standard that defines this variety of pallets was created to principles of the 90 the VCI (Verband der Chemischer Industrie),CP pallets are focused for use in the chemical industry. .
Nine models of pallets, for CP1 to CP9, they are standard in quality and dimensions models, due to its characteristics can be reused.
All the characteristic that you define this type of pallet standard dimensions, quality, resistance…